The Peter Hook Signature Collection
January 01 2019
A JOY DIVISION & FACTORY RECORDS EXHIBITION & AUCTION
FROM PETER HOOK'S PRIVATE COLLECTION
HISTORIC EQUIPMENT, GUITARS, INSTRUMENTS, RARE VINYL,
UNIQUE ARTWORK & MORE FROM HOOKY'S ARCHIVE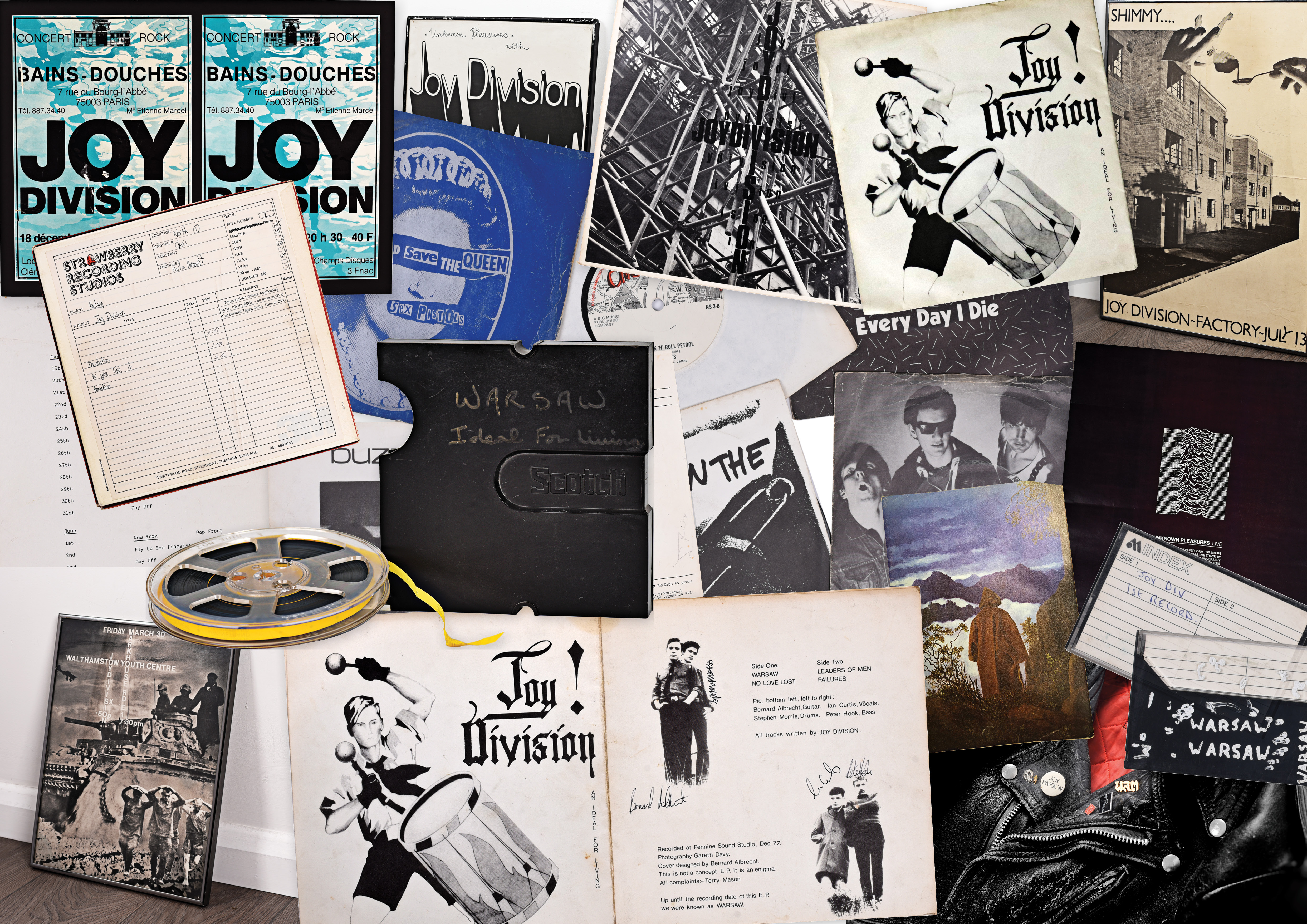 EVENT PREVIEW AT RECORD PLANET, UTRECHT, FRIDAY 16TH - SUNDAY 18TH NOVEMBER 2018
FULL EXHIBITION AT OMEGA AUCTIONS, MONDAY 25TH FEBRUARY - SATURDAY 2ND MARCH 2019
AUCTION SATURDAY 2ND MARCH 2019 FROM 1PM AT OMEGA AUCTIONS
Legendary Joy Division bassist, Peter Hook is to hold an exhibition and auction of his wide ranging and historic collection of Joy Division and Factory Records memorabilia which as one of the most avid collectors he has put together over his four decades in music.
The "Peter Hook Signature Collection" features many rare items from Hooky's first band Joy Division as well from Factory Records including equipment, instruments, Hooky's own guitar, rare vinyl, unique artwork and original posters from the era.
The collection marks the first time these have been brought together for fans to view and is made up of many items, unseen since the ends of both Joy Division and Factory.
The collection also includes artefacts including correspondence and limited edition clothing, much of Hooky's personal memorabilia including his Free Trade Hall Sex Pistols ticket and, even the infamous original Factory Records table number amongst its near three hundred exhibits and lots.
The event will be previewed with a select number of pieces at next week's Record Planet 50th Anniversary Fair in Utrecht, Holland from Friday 16th November to Sunday 18th November with Hooky attending the event on Saturday 17th November from 11.00am in a Q&A with respected Dutch music journalist, Jan Vollaard.
The full exhibition then takes place at the end of February 2019 with all exhibits and lots at Omega Auctions HQ in Newton-Le-Willows across the last week of the month before the auction on Saturday 2nd March at 1.00pm.
All items and exhibits have been collated into a catalogue as a record of the whole exhibition with high spec images and personal comments on all entries. The catalogue will be first available at Record Planet, Utrecht but can be pre-ordered now from our online shop and will be shipped after the record fair around 20th November 2018.

The online catalogue of all exhibits and lots are now available on our website for pre-bidding The full catalogue with pre-bidding is now available here
The proceeds for certain lots will be donated to The Christie as noted in the catalogue.  Further donations from the auction will be supporting CALM and Epilepsy Society.
About Peter Hook's Signature Collection exhibition and auction, Hooky commented;
"I've always thought the collection of memorabilia must be a bass player thing. Its always the bass player that drives the van, and it seems to be always the bass player who collects all the artefacts. To me its a great way of charting what we achieved."
"The thing with all of the items going in, I've had them around now for far too long now and with the interest that people continue to show in the band and Factory, I think it's time that I shared my archives with the fans.
"The music and the cultural ethos that underpins both Factory and Joy Division seems to be even more relevant today. I hope that the fans will appreciate seeing the exhibits and enjoy the archive."
Peter Hook Signature Collection – Selected Exhibits
At the centre of the collection are many of Hooky's own guitars and equipment from the Joy Division era which include his first ever bass guitar used for both Warsaw and Joy Division, bought the day after the Sex Pistols Free Trade Hall concert, a Brian Eastwood replica of the Ian Curtis Vox Phantom guitar featured on the "Love Will Tear Us Apart" video, and his Shergold Marathon Custom 6 String bass used extensively on "Closer".
In addition various specialist bass amps used during the period and instruments including a Joy Division melodica, the Chimes used in the recording of "Atmosphere", the original Electro Harmonix Clone Theory Pedal used by the band as well as original flight cases from tour dates feature in the collection.
As for unique Joy Division memorabilia included are tour itineraries relating to the cancelled US Tour in 1980, the Buzzcocks 1979 UK tour and the European dates in January and Februay 1989, a typed lyric sheet for "Failures Of  A Modern Man" by Ian Curtis as well as original posters  for Le Bain Douches, Kant Kino Berlin and Walthamstow Joy Division concerts.
Rare vinyls include a copy of the limited edition "Sordide Sentimentale" and a number of exhibits and lots related to "An Ideal For Living" EP including the original EP and 12", a copy signed by all band members, the original artwork and Hooky's leather jacket as worn on the EP sleeve.
As for Factory Records items included there are numerous test pressings and pre-production samplers from a variety of artists including Durutti Column, Stockholm Monsters, Happy Mondays as well as a varied selection of Factory memorabilia including the original Peter Saville Russell Club poster from 1979
This is just a selection from the complete catalogue which will be first available at Record Planet and can be pre-ordered  in our online shop.  The catalogue is available in signed and non signed versions from Tuesday 20th November 2018.
The full catalogue with pre-bidding is now available here
Peter Hook Signature Collection Event Timeline
Friday 16th - Sunday 18th Nov 2018 - Exhibition/Auction Preview At Record Planet, Utrecht
Saturday 17th November 2018 - Hooky attends Record Planet for Q&A / Signing 
Tuesday 20th November 2018 - Full Exhibition/Auction Printed Catalogue Published
Monday 21st January 2019 - Full Exhibition/Auction Catalogue Online For Pre-Bids
Monday 25th February – Saturday 2nd March 2019 - Full Exhibition/Auction At Omega Auctions
Saturday 2nd March 2019 - Auction At Omega Auctions From 1.00pm
Blog