The Peter Hook Signature Collection 2021
October 08 2021
A NEW ORDER EXHIBITION & AUCTION
FROM PETER HOOK'S PRIVATE COLLECTION
HISTORIC EQUIPMENT, AWARDS, GUITARS, INSTRUMENTS,
RARE VINYL, TEST PRESSINGS, TAPES & CD'S, UNIQUE ARTWORK & MORE
FROM HOOKY'S PERSONAL ARCHIVE
FULL EXHIBITION AT OMEGA AUCTIONS MON 4TH OCT TO FRI 8TH OCT '21
AUCTION FRIDAY 8TH OCTOBER 2021 FROM 11AM AT OMEGA AUCTIONS
Renowned bassist with Joy Division, New Order and The Light, Peter Hook is to hold his second exhibition and auction featuring his hugely substantial and extensive collection of New Order artefacts and memorabilia which as an avid collector throughout his life he amassed across his ten albums with the band.
Following on from the successful exhibition and auction focussed on Joy Division and Factory Records in March 2019, The "Peter Hook Signature Collection – New Order" showcases many rare, unseen items from Hooky's decades with the group across over four hundred lots. The collection takes in awards, instruments including a large number of Hooky's own guitars, studio equipment, releases across all formats and more besides.
Also featuring items related to Factory and Joy Division, the collection predominantly refers to Hooky's output with New Order and takes in many items with great historic relevance.
With too many to list here, some include The Factory "Blue Monday Anvil" presented to the band by Tony Wilson, Hooky's 2005 NME and 2006 Ivor Novello awards, the "Overwater Bass Guitar" owned by John Entwistle, Hooky's six string Shergold Marathon and original Yamaha BB1200S used across most of New Order's celebrated output and equipment including the Prophet 5 Synthesiser And Sequencer as used in the recording of "Blue Monday" and Hooky's final audio rig "The End" from the farewell New Order concert in Buenos Aires November 2006.
In addition, the "Peter Hook Private Collection – New Order" puts on show a vast array of memorabilia related to Hooky and the band from original flight cases, framed gig posters and artwork, limited edition fashion and clothing, as well as tour itineraries, books and assorted other items
A vast part of the exhibition auction also sees Hooky's collection of New Order's releases, original records, test pressing, CD's and cassettes which track the catalogue of the group's entire career.  
This event sees the first time these items from Hooky's archive have been brought together for fans to view and comprises a complete record of his New Order history from its founding in 1980.
The full exhibition takes place Monday 4th October 2021 to Friday 8th October 2021 featuring all exhibits and lots at Omega Auctions HQ in Newton-Le-Willows.
The auction then being Friday 8th October 2021 at Omega Auctions from 11AM.
As with the previous Joy Division collection, all items and exhibits have been collated into a catalogue as a record of the whole exhibition with high spec images and Hooky's comments on all entries.
The catalogue is available now to order from Omega Auctions here
The online catalogue of all exhibits and lots will be available at Omega's website for pre-bidding from Friday 27th August 2021.
Donations from the auction will be supporting The Christie charity and Epilepsy Society.
Previewing the New Order Signature Collection, exhibition and auction, Hooky commented.
"I always knew that this collection would be the most difficult. The highs in my forty one years of New Order's existence have been incredible alongside the lows. Seeing these wonderful items and remembering the fantastic achievements and wonderful adventures we had all around the world did bring a smile to my face and tear to my eye.
"I really hope that those interested in the history appreciate and enjoy the collection."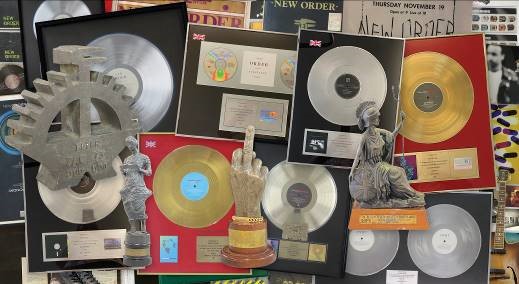 Forming a core part of the collection are many of the awards received by Hooky which celebrate New Order, many of which have now passed into being part of the band's legend. New Order's only Brit Award for "True Faith" features as well as Hooky's 2005 NME Goldlike Genius Award alongside an Ivor Novello from the following year for "Outstanding Song Collection"
A stand out piece is the Factory Records "Blue Monday Anvil" forged to commemorate half a million sales of the best selling 12 inch ever by Tony Wilson to present to the band who were disappointed at not qualifying at the time for gold discs or similar as Factory wasn't a member of the BPI.
However the collection also features a host of American RIAA discs from Quincy Jones' Qwest for Substance's millions of sales in the United States, a "World In Motion" Gold Disc as it was released in conjunction with MCA, a UK Platinum Award for Substance from 1990 and many later sales awards for Joy Division's and New Order's biggest releases from when the catalogue had moved.  
Also featuring within the exhibition and auction as previously is a vast collection of Hooky's
guitars and equipment which have been used throughout his career. These include a cherished "Overwater Bass Guitar" previously owned by The Who's John Entwistle, Hooky's "Shergold Marathon Black 6 String Bass Guitar" used on "Blue Monday", "Your Silent Face", "World In Motion" as well as the original Yamaha BB1200s used to write and record every four string bass track New Order ever recorded, from "Ceremony" to "Age Of Consent" to "Love Vigilantes" to "Crystal" and more.
Hooky's very first Chris Eccleshall EBO Hollow Body Bass Guitar, considered to be the original and used at all his New Order gigs from 1982 onwards is also a very special lot and studio equipment used in the group's output also features including the "Prophet 5 Keyboard And Poly Sequencer" which gave Blue Monday its sound, and its successor, the "Yamaha DX-5 Keyboard And Sequencer" used by the band in the late Eighties.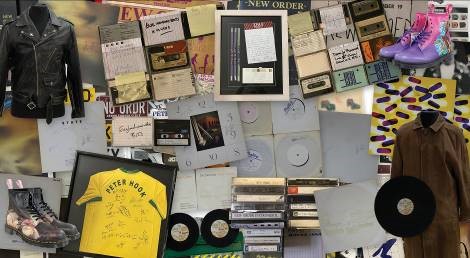 Rare releases also make up a distinct part of the collection and across a variety of formats including test pressings including albums such as "Substance" and "Low Life" and singles "Bizarre Love Triangle", "Perfect Kiss", "True Faith", "Fine Time", "World In Motion" and acetates of "Thieves Like Us" from Quincy Jones' Qwest.
There are signed releases as well as live CD's and cassettes both from the group's tours and live dates throughout Hooky's career as well as original tape reels and master tapes dating back to the earliest days of the band.
Other miscellaneous items include a letter from U2 from when both appeared at Glastonbury, a Brasil football shirt worn and signed at the Buenos Aires 2006 gig, and host of band related clothing items including "Power, Corruption And Lies" and "Technique" Dr Martens boots.
This is just a selection from the complete catalogue which can be pre-ordered here
The full catalogue will be made available online from Friday 27th August 2021 at 11AM when pre-bidding on lots will commence.
Peter Hook Signature Collection Event Timeline
Monday 28th June 2021 - Full Exhibition/Auction Printed Catalogue Published
Friday 27th August 2021 - Full Exhibition/Auction Catalogue Online For Pre-Bids
Monday 4th October 2021 – Friday 8th October - Full Exhibition At Omega Auctions
Friday 8th October 2021 - Auction At Omega Auctions From 11.00AM
About Omega Auctions
Omega Auctions have established themselves as one of the leading auction houses worldwide for music memorabilia and vinyl records over the past decade.  Previous highlights from collections have included the first recording of David Bowie, original jackets from the Beatles film Help!, George Harrison's car and items from Elvis Presley and John Lennon..
Omega Auctions, Sankey Valley Industrial Estate, Newton-le-Willows, WA12 8DN
Catalogues are available as follows:
Unsigned: £15
Signed: £23
With personal dedication: £35
There are two cover variants for the 2021 Peter Hook catalogue, however the internal pages are identical for both versions.
A limited edition print run of 2,500 of each variant has been produced - 5,000 catalogues in total.
UK - free shipping
Europe - £10 for the 1st catalogue and an additional £2 per catalogue thereafter
Worldwide - £12 for the 1st catalogue and an additional £6 per catalogue thereafter
BIDDING INORMATION

PLEASE NOTE THAT ALL BIDS ARE LEGALLY BINDING AND CANNOT BE CANCELLED ONCE PLACED, SO THINK CAREFULLY BEFORE PLACING ANY BIDS. 
Printed catalogues are now available to order here. 
Viewing is available by appointment at the following times (2 hour slots):
Monday 4th October: 10am 12pm 2pm 4pm
Tuesday 5th October: 10am 12pm 2pm 4pm
Wednesday 6th October 10am 12pm 2pm 4pm
Thursday 7th October 10am 12pm 2pm 4pm
Friday 8th October from 9am
In order to view, a printed catalogue is required.  One catalogue admits two people. Please send an email to office@omegaauctions.co.uk to book a viewing slot.
Bidding in Person
As space is limited, in order to attend the auction, you will need to book a place.  Please send an email to office@omegaauctions.co.uk to book a place.
Please note that public auctions are subject to a Buyer Premium, which is a charge added on to the hammer price.  For this sale, a buyer premium of 28% (inclusive of VAT) will be added to the hammer price (23.34%+VAT)
For example, if you bid up to £100, you will pay £128.00 in total 
If you are unable to bid in person, there are a number of ways to join our auctions remotely: 
By absentee bid
If you are unable to attend the auction you can leave an absentee bid on our website.  The amount you bid should be your maximum bid. The system will bid up to that limit for you, and remember you may end up paying less than your limit, depending on other bidding on the day.
A buyer premium of 28% (inclusive of VAT) will be added to the hammer price (23.34%+VAT)
For example, if you bid up to £100, you will pay £128.00 in total 
Bid live online on our website (Omega Live)
Many clients prefer bidding live online at our auctions. It's easy to register with us online, you can watch the auction as it happens and place bids from the comfort of your desktop/ mobile device.
A buyer premium of 28% (inclusive of VAT) will be added to the hammer price (23.34%+VAT)
For example, if you bid up to £100, you will pay £128.00 in total 
Bid live online via the-saleroom.com
There is an additional 5%+VAT charge for bidding via the-saleroom.com
The total charges (buyer premium + saleroom.com charge) will be 34% (inclusive of VAT) on top of the hammer price (28.34%+VAT).
For example, if you bid up to £100, you will pay £134.00 in total 
By telephone
For lots with a low estimate of more than £500, we may be able to arrange a telephone bid, however, you must be prepared to bid at least the low estimate.  If you would like to bid by telephone please contact our team prior to the auction with your details of the lots you are interested in and your full name, mailing address, telephone number(s) and email. Once our team have processed your bid request you will receive an email confirmation.
A buyer premium of 28% will be added to the hammer price (23.34%+VAT)
For example, if you bid up to £100, you will pay £128.00 in total 
Please note that all absentee and telephone bid requests must be received by close of business 2 days before the auction. 
Registration on Omega Auctions website
In order to leave an absentee bid or bid live on our website, you will need to register for an account.
You will need to enter a valid credit/credit card in order to place absentee bids or register for live bidding.
We updated our bidding platform on 4th November 2020, so even if you have bid before, you may need to re-register.
For live bidding, it is possible to pre-register up to 28 days before the sale.  We advise that you register at least 24 hours before each sale, to ensure that your registration is processed and you are able to bid on the day of the sale. 
Most UK bidders have a default bidding limit of £10,000.  You can check your bidding limit from within your account. If you think you may require a higher limit, please let us know and we will review your account. If you have only recently registered, your bid limit may have been set at £1000.  We aim to review this within 24 hours and increase the bid limit where appropriate.  Overseas bidders may be required to pay a deposit, before the bid limit can be increased.  
The Live Bidding screen is available from 1 hour before the start of the sale - you will need to log into your account and then go to the Auction Calendar.  Next to the auction will be a button 'Bid Live', which will open up the bidding window and will have full audio/visual streams from the auction room.  The live auction will run consecutively one lot after the other and will start at the current pre-auction bid level.  We aim to do around 100 lots per hour.
PLEASE NOTE THAT ALL BIDS ARE LEGALLY BINDING AND CANNOT BE CANCELLED ONCE PLACED, SO THINK CAREFULLY BEFORE PLACING ANY BIDS. 
Payment Methods
Bank Transfer/BACS/Wire
Debit Card (up to £5000)
Credit Card (up to £5000)
A surcharge of 3% will apply on overseas card payments and also ALL corporate debit/credit card regardless of country.
We do not take card payments over the telephone.  Card payments can be made in person (CHIP & PIN) or online only. 
PAYMENT IS REQUIRED WITHIN TWO WORKING DAYS OF THE END OF THE SALE.
Shipping
If you have bid online, telephone bid or absentee bid and are successful, we can usually arrange shipping for invoices with a value less than £10,000, which can easily be shipped via Royal Mail or our nominated courier. We cannot insure against broken glass and whilst we package carefully, we cannot accept any liability for damage in transit. For framed items we can either remove from frames or ship in frames at your risk. For large/bulky or particularly fragile items please check in advance that we are able to ship. We are happy to provide an approximate shipping quote in advance of the sale for items you are interested in.
Please note that we do not provide a packaging only service.
In order for us to provide shipping, payment must be received within 2 days of the end of the auction.
Shipping is at the risk and expense of the buyer.
If items are being shipped to a country outside of the UK, you are likely to incur import tax/customs duty.  We are unable to advise how much you will be charged, as each country has it's own rules and charges differently.  The responsibility for paying these charges lies strictly with the importer/receiver.
Post-auction Process
At the end of the sale, we will collate lots and calculate shipping quotes (where appropriate).  You will then be sent an invoice via email, with payment instructions - this is usually sent during the evening of the sale day.  
If you need to change your shipping address, you can do this from within your account.
Blog