The Billy Duffy Collection - 25th October 2019
October 25 2019
AN AUCTION OF LEGENDARY GUITARS, EQUIPMENT, CLOTHING, MEMORABILIA AND MORE FROM THE CULT'S ICONIC GUITARIST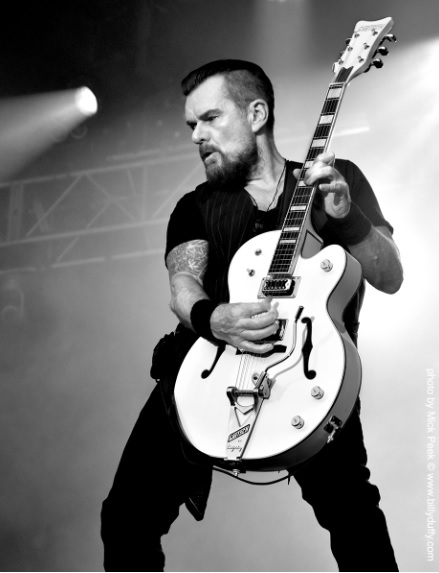 The photograph of The Cult's guitarist Billy Duffy holding his Gretsch White Falcon aloft onstage is a true piece of Rock and Roll iconography. After a glittering career with Theatre of Hate, Death Cult and The Cult, Billy has decided the time has come to open up his archives and offer The Cult's fanbase an unparalleled chance to own some of the items which he has spent a lifetime accumulating. The collection charts a life in music, from early days collecting Mott The Hoople tickets and posters, his friendship with Steven Morrissey, a defining experience seeing The Sex Pistols at the infamous 'I was there' gig in Manchester, July 1976, through to The Cult's huge successes of the 1980s and beyond.
In Billy's words.... 'Early last year I announced that I was looking at moving on a lot of my memorabilia now that much of it had been photographed and added to my website. What I didn't realise was just how much time and effort can go into making something like that happen and being so busy with the band meant I just didn't have that time.

Then, this year I saw that Peter Hook, one of my mates from Manchester, was doing exactly what I wanted to do but with his Joy Division collection… he was letting it go back to the fans. The way he was doing it was by getting an auction house do all the hard work which seemed to make total sense. I spoke to Hooky and he fully recommended the people he had used called Omega, who are based in the North West of England, close to my family home there (where a lot of my stuff was stored). I met with them and realised their expertise in running auctions of music memorabilia made them the perfect partner to make this happen.

So we've had a busy time in cataloguing and photographing items not already on my site and finally I can announce that the auction will take place on 25th October… which is the day after The Cult play in Manchester, so hopefully anyone going to the show will get chance to come along. If you can't make it to the actual auction you can bid online or if you're really old school they take telephone bids too. There will be a catalogue out soon that you can pre-order from Omega direct and I'll be signing a limited quantity too…'
A Few Highlights...
Lot 10 - 1978 postcard from Morrissey to Billy. 
A snapshot into what would become the fertile musical scene of Manchester of the early 1980s. A postcard from a holidaying Steven Morrissey, later of course of The Smiths, to his friend and bandmate Billy Duffy circa 1978.  
Start price - £400
Lot 195 - Billy's Motorcycle Boots. 
Billy's fashion choices make regular appearances throughout the sale, and he says of his famous boots ""These Santa Rosa motorcycle boots were my first ever pair of "real" 'Clash' boots. I think I bought them in 1984 .. it was around that time that I was developing my psychedelic biker look with the paisley shirt, beads and motorcycle belt buckles. But they're probably most notable for being "the" boots from the opening sequence of 'Love Removal Machine' video!"
Start price - £300
Lot 13 - Sex Pistols 1976 Poster. 
The sale features several items charting Billy's musical education in Manchester during the 1970s and this is certainly the highlight of that period. A rare and sought after poster in its own right, Billy took this from the walls of the fabled Free Trade Hall after seeing the second of the Pistols' famous Manchester shows in July 1976. 
Start price - £8000
Lot 114 - Billy's Gold Disc for Sonic Temple. 
One of many awards garnered by Billy and the Cult over a long career, this disc celebrated sales of 100,000 units for the classic 1989 'Sonic Temple' album.
Start price - £200
Lot 200 - Billy's Gretsch White Falcon. 
Closing out the sale is Billy's personally owned and used Gretsch 'White Falcon' guitar. One of the most well known songs in the history of rock music; 'She Sells Sanctuary' is inextricably linked to this model.
Start price - £8,000
Billy Duffy Collection Event Timeline
13th August 2019 Printed catalogues can be pre-ordered (signed or unsigned)
30th August 2019 Printed catalogues available to be shipped
19th September 2019 Auction catalogue online for pre-bids
24th October 2019 Auction available to preview at Omega Auctions 
25th October 2019 Auction At Omega Auctions From 1pm
Love Hope Strength Charity
Billy has chosen to support the Love Hope Strength charity, with proceeds from select lots going directly to the organisation.
Love Hope Strength (LHS) was founded in the USA and UK over a decade ago by internationally acclaimed musician Mike Peters after he was diagnosed with cancer for a second time.  Since then LHS has raised over £1m globally to help support some of the most vulnerable people affected by cancer. LHS supports lifesaving and life changing equipment and special projects across the globe; it's equipped hospitals and community cancer services with new facilities and equipment in parts of the UK, USA, Africa and Asia. LHS is committed to giving hope to people living with cancer across the globe. Through its 'Get On The List' programme, LHS helps identify blood stem cell donors to match with people living with blood cancer or blood disorders who need a second chance at life. Incredibly, LHS has already delivered over 200,000 people to international blood stem cell registers. This has resulted in over 4,000 potentially lifesaving matches being found (as of January 2019). 
Blog